Tuesday, January 04, 2005
[Time: 2:22 p.m.]

[Music: 'Tonight I Feel Close To You' - Stefanie Sun & Mai Kuraki]



HAPPY NEW YEAR~!!!

Ok, so what if I'm lagging by a couple of days...hehe...I know I've just been too irresponsible by not coming in here... So forgive me!! It's the New Year anyways, and while I'm not making any resolutions (just like before), I'll TRY updating more often yah?

My New Year was a pretty quiet affair, meeting up with Jac and Pearl a.k.a "Mommy", both whom I haven't seen in quite awhile. We hung out at Jac's place on New Year's Eve and watched VCDs in the afternoon. (Thanks for the belated Christmas pressies, my dears!) And then I went home for dinner with my family and channel surfed between the various countdown concerts from Taipei, Taichung and Kaohsiung. Really great entertainment there, made even more special when I parents watched along and gave nice comments about my fave artistes! Hahaha... I also got to see my former dance instructor Ming, backing up for STANLEY HUANG. Ahhhhhhhhh...


Pearlyn and I - the mother-daughter pair

New Year itself was spent at Ling's place doing some serious slacking. Ling, Fei, Jerm and I sure felt rejuvenated by that. We've been so busy with our own lives we haven't had the time to hang out together, much less know what being a slacker feels like! Really wish the rest from our gang could've made it that day too... Anyway, Ling has a REALLY adorable Jack Russell, named Brownie. She's so well-behaved (in other words, doesn't bark unless provoked), gets really hyper and warms up to new people quickly, and knows how to get jealous when we stroke a stuffed toy in front of her. Because of her, I've been thinking about getting a dog myself. Just don't know if I have enough commitment towards it...and yes, I hate being overwhelmed with feelings of grief when my dear pet passes on...

So yesterday was back to school for many (namely primary, secondary and JC levels). It's been raining nonstop over the past week so traffic was BAD. That still didn't prevent tourists and after-schoolgoers from heading downtown in the late afternoon. I guess the Christmas/New Year mood is still lingering thick in the air. Was browsing around HMV before meeting Yin for dinner, when I got drawn to the Asian Pop section by the sounds of "Kimi Wa Tomodachi" by Ken Hirai. Ken's one Japanese singer whom I've always admired and respected, with one of the most soulful voices around. It brightened me up alot when I noticed shoppers around me paying attention to his songs (especially when the very popular "Hitomi Wo Tojite" came on after that), discussing how good he sounds and stuff. Also ran into Singapore Idol Top 10 finalist David Yeo in the store. He was dressed in a pair of loud, funky shades which I took notice of, but I didn't know it was him. Only when he suddenly made some loud exclamations to the friend he was with did I (and others) realise his presence. But I must say he looks GOOD in person! Always felt that he exuded a certain charm on TV, though he wasn't gorgeous. My mom kinda liked him for that. Hehe.

Dinner with Yin at Wrappamania after that was fantastic. Food was great, and our conversation even more wonderful. She has this cute way of talking that's amusing yet endearing at the same time...it was so fun hearing her stories at Yale! From weird American-born Korean boy (that was a complete opposite to tall-with-broad-shoulders Korean TV hunk-types), to eccentric Kansas roomie, to a distastrous blind date at the freshmen ball...I can't believe she's meeting all these people at her prestigious Uni...heehee... Oh, and to further break the stereotype of "smart, intellectual individuals" that go to top schools, she even knows blonde and brunetter airheads who have similar-sounding names and pick petty fights with each other in their high-pitched voices:

(think Hollywood chick flick lines)
- "Oh! How can you take that! It's mine!" *smacks other*
- "Owww! You hit me! I'll get you for that!"

...and they go on and on, without any conclusion...-__-

Anyhow, I think its great to be catching up, over the festive season, with people I hardly get to see. In light of the tsunami disaster, I count my blessings to be able to live on well and still get to see the people I care about (which means that they are living well too ). It's so depressing hearing the death toll escalating every time I turn on the news. Singapore is a great location to be in - it may be hot and humid, but we don't suffer from the extreme cold, nor even get earthquakes or typhoons. *touch wood* How important is a country's location for it to have economic progress indeed.
Posted at Tuesday, January 04, 2005 by lilmissmoron
Permalink
Sunday, December 19, 2004
[Time: 11:59 p.m.]

[Music: 'Tong Lei' - Stefanie Sun]

A week ago (as mentioned in my previous entry), I was lamenting about my dilemma. Well guess what, I gave up performing and went for the Star Awards instead. Had a hell lot of fun and wasn't really myself for the few days after! In short, the whole week has been jam packed with activities actually. Besides the Star Awards lunch presentation and main event, I also got to attend a press screening for Stephen Chow's new movie "Kung-Fu Hustle"...and then there was CTV's party as well. Here's a quick rundown of the events.
Star Awards lunch presentation (Sun, noon)
Gathered at the very posh Fullerton Hotel for this lunch awards presentation, which mainly honoured people from behind-the-scenes (e.g.: producers, set designers etc.) and other aspects of television like drama theme songs. It was my first time going to such formal events without my parents for company, and I eventually discovered my lack of social skills in such business-like settings. Usually I'd have no problems starting conversations with just about anyone, but being a small fry amidst all the bigwig media industry players, it was simply too stifling. A few celebrities turned up - namely HK actress Flora Chan, Taiwanese host Xu Nailin and Tony, Zax and Sam from Taiwanese quintet 5566. The most frustrating thing was that those present already knew each other, thus I found it impossible to glide my way into whatever table conversations they were having. I was honoured to have met the Group CEO of MediaCorp though - he's a nice man. Unfortunately, the same thing can't be said of certain reporters/producers/directors. Anyhow, thumbs up to the food served, though I didn't get to finish my codfish due to phototaking!
Star Awards main event (Sun, 7pm)
A little disorganised in terms of seating arrangements at the start, which kinda pissed me off. But the remainder of the show was good! Hosts Matilda Tao and Cao Qi Tai did help in livening up the show with their humour, but ultimately, the spotlight was still on our local TV artistes. Having been one who never cared much about the local television scene, I still ended up feeling fascinated by them! Perhaps I was just starstruck.
There were many funny moments - for e.g., Mark Lee attempting to kiss Fann Wong's cheek, and then "implanting" the kiss onto Christopher Lee's cheek. Everyone was just trying means to make them give up denying that they are a couple!
After the show, I joined a group of journalists in a short interview session with Fann, and then we proceeded to the post-event function to take eat and take pictures. Have to say that we really let our guard down then! Mich and Fang took pics with their respective hunks Julian Hee and Tay Ping Hui, while Fei got cozy with super adorable child actor Chen Xing Yu. We then saw more child actors around, so I went over to Megan Zheng (who picked up a Golden Horse Best Newcomer Award for "Home Run" last year) and Li Xian Min (who won that night's Young Talent Award and turned 12 on the same day! Congrats!) to get a few quotes from them.
I ended up taking a pic with Christopher though he isn't one of my favourite artistes around.
Pang has yet to send me the pic but when I do upload it, I bet you'll laugh at the height difference between Chris (1.83m) and I (1.57m)! Poor Pang, he was so busy being the photographer at our beck and call, he nearly didn't manage to get any pics with the artistes. Luckily, while waiting for the elevator, we spotted Felicia Chin hanging around nearby and "ordered" Pang to get himself a picture with her. LOL!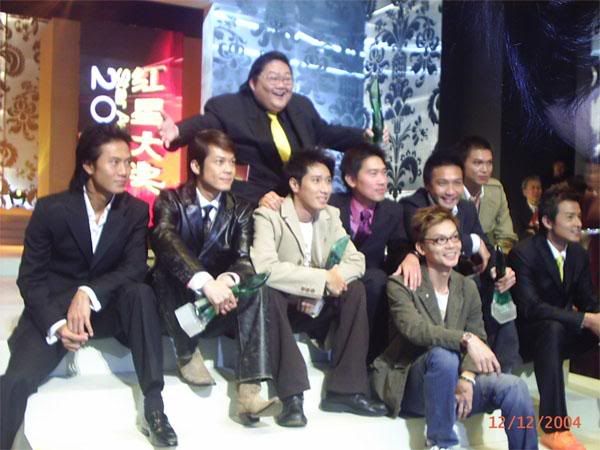 Here's a self-taken pic of the Top 10 males (Top: Moses Lim; middle row L-R: Qi Yu Wu, Terence Cao, Dasmond Koh, Edmund Chen, Tay Ping Hui, Xie Shao Guang; bottom row L-R: Mark Lee, Christopher Lee. Vincent Ng, one of the winners, couldn't be present for the Awards.

"Kung-Fu Hustle" press screening (Wed, 7pm)
Nothing much to shout about here except for the movie itself - with its hilarious choreography and interesting use of imageries. It was a great way to unwind on a midweek evening, as we laughed really loudly at all the funny bits. There wasn't much of a plot to speak of, to tell the truth, and most of the fighting sequences could be considered spoofs of those found in The Matrix (think the scene of Neo vs tons of Agent Smiths). I wouldn't be surprised if this movie faces backlash from the conservative, as it contains rather graphic violence and satirical references to the art of kung fu and Buddhism. I'd rate it 3.5 out of 5 stars.
CTV Party (Thu, 7pm)
Organised by my school's Campus TV, The main surprise and disappointment of this event had to be its crowd. Sure, it was great seeing the large turnout as that meant CTV had attained a wide reach with this event.
However, 500 people packed into a cramped Rouge wasn't quite how I'd have liked it. Suz and I went in late and missed opening act Alicia Pan, but we're glad to have caught Electrico! The local band played way more songs than the measly 2, from last week's MTV Asia Awards Voting Party, much to the delight of everyone present. They are indeed a band worth looking out for, and I see myself getting the album sometime soon.
I wasn't too interested in the remaining acts though, but Suz and I still stayed till a little after the party and hit the dancefloor (which we got pretty bored of after some time).
So those were the highlights of my week in summary! Tons of links to check out huh. Well, here's more...and this has more importance to me than any of the links posted above. The first episode of our RSI project is finally out!!! It went on air last Monday at 2125h (+GMT 08:00), and spoke about common misconceptions the public has about polytechnic students. You can listen to it, and can catch the remaining episodes at the same time and day over the next 3 weeks via the RSI website (click the 'live' button on the right of the page).
As the female lead, I think I sounded quite scripted. Couldn't help cringing when I heard myself.
Hope I'll to hear a marked improvement over the next few weeks though! Cheers to all my coursmates and lecturers who have worked hard on this team!
Posted at Sunday, December 19, 2004 by lilmissmoron
Permalink
Friday, December 10, 2004
[Time: 11:35 p.m.]

[Music: 'Hui Se Kong Jian' - Luo Zhi Xiang]

I'm in a dilemma. This Sunday evening, I've got a performance that I'd been looking forward to for the past 6 months. BUT! I've also been asked to cover the Star Awards, which is an annual glitzy event that honours local Chinese television's finest. Timings for both events clash and initially, I was to go ahead with the performance as I felt more for it. Rehearsals yesterday night left me with a change of heart though, and it was a disappointment due to improper planning and organisation. Maybe I'm just fickle, but the more I think of it now, the higher is my desire for attending the Awards. However, the crux of the problem lies with the fact that my attendance at the Awards can't be confirmed yet. There's a media lunch event about 36 hours away which I will be attending though, but to think that I'm only left with tomorrow to get everything sorted is leaving me restless.
After school today, I got to attend the MTV Asia Awards 2005 voting party at Zouk, via invites that were given to RHW. Wasn't a bad party, I must say, as I enjoyed performances by all the bands present - Electrico, Pug Jelly, Armchair (from Thailand), as well as beatboxer Dharni with his DJ. It was a great way to unwind after the first lethargic week back in school! I still can't believe that less than 10 people went up to audition for the mosh pit! The 2 lucky winners would get all their expenses paid for when they make their trip down to Bangkok next February for the MAA. I sometimes feel like killing myself over my lack of confidence in my dancing skills!
Then there were 2 Caucasian guys (im just stating the race and sex - no racist nor sexist intentions) trying to block my way as I was leaving Zouk. Both of them were 1.9m+ tall, and obviously using their height to their advantage while trying to be funny.
"No, im sorry...you can't go out unless you get past us... Right now theres only a few options - this way, that way, straight ahead or walk back to where you came from?"
It was a few attempts before I managed to push past one of them. And while doing that, I heard him ask, "Hey, where did you buy your top from?" WTF is up with people these days?! I apologise if I'm being testy...everyone's been having a temper of late anyway. And I AM PMS-y btw. *growl* Maybe it all links back to square one. I hate having to wait for answers to winge my way out of a dilemma whenever I'm facing one!
Posted at Friday, December 10, 2004 by lilmissmoron
Permalink
Monday, December 06, 2004
don't let this moment end
[Time: 9:44 p.m.]

[Music: 'Mang Yu Mang' - Stanley Huang]

2nd entry in a month. This is CRAZY!!! I really wish for time to slow down for many many reasons, one of which is entering the last semester of school today.
Now don't get me wrong, I do wish to graduate as soon as possible and leave the "hellmouth" behind. But the closure of a chapter in my life marks the opening of another - and in this case, I have no clue what I'm gonna do yet post-grad. This sem, I'm taking modules like Advertising Creatives, Conventions & Exhibitions and...*drumrolls* ONLINE JOURNALISM!!! Yes, fought real hard for Online coz it wasn't listed during my appointment time for web enrolment due to a stupid system screwup, thus I couldn't get a slot in the class prior to today. I'm a lucky girl!!!
I like the fact that these 3 electives I'm taking pertain to my interests, and they all have at least some involvement with the working world. Hopefully, this will give me answers to my own questions by the end of this semester.
Anyway, I went for a haircut yesterday and emerged looking even punkish than ever.
My hair grows out real fast, and it was less than 3 months since I last cut my hair. My aunts all thought that I'd gone overly besotted with Singapore Idol runner-up Sylvester Sim, to attempt mimicking his hairstyle. That's so not true!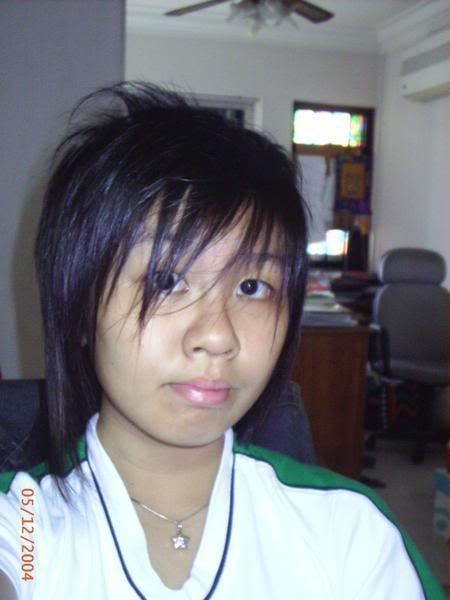 Life's been good so far, and if you're wondering about the vocal exam, well I passed!!!
What surprised me the most about the overall result was my 62/80 on the singing component. Never in my life have I ever gotten more than 60 on that!
Why I thought I'd fail was because my instructor said that "many of us fell into the 50-something range", which was what I'd expected since my grade had always been there. I was expecting 55. Add on to a 14/20 that I expected for the aural component, and I'd get 69/100, when 70 was needed for passing. Well I fell under my expectations for aural with a 12, but overall it was still a 74 so yeah...im thrilled!! Am taking a break from vocal classes for the time being as I've only one term to go before graduating with my own demo. Thought I should give my all to my studies since its also my last semester in school. It'll be better if I can focus fully on singing after I'm done with academics anyway! Am I making any sense?
Posted at Monday, December 06, 2004 by lilmissmoron
Permalink
Wednesday, November 03, 2004
life can never be too smooth...so?
[Time: 11:01 pm.]

[Listening to: 'Bie Xiang Dang Zhu Wo' - Tension]

Everyone's falling sick and it's worrying me quite a bit... Especially to the 70,000+ kids nationwide who are sitting for their 'O'-levels during this period! I sure hope that they remain as healthy as they possibly can...it sure sucks if you're feeling like crap while sitting for major examinations that can probably decide your future. *shudder*
Anyway, had a girls' night out with Suzee and Kray dearests. (Note how I make it a point to add an 's' at the end. Hehe.) Its wonderful how we, 3 individuals spanning across the 3 years in MCM, can talk about so many aspects of life nonstop. So the food was yum yum (had a teriyaki chicken pizza and then we shared an apple crumble with ice cream - something Suz couldnt tear her eyes away from on the menu
), and most importantly...the conversation was one of the best I've had in quite awhile. I didn't realise how much I'd missed kidding around in a group while discussing some strong ideas about certain issues! Gotta do that again sometime, girls.
This morning, the refrigerator in my home almost broke down. Now it's dying a slow death, along with whatever of its contents. My family and I have literally had to polish off whatever perishables inside the fridge today, and we also moved on to the dairy products. I dunno how we're gonna work our way through 20 slices of cheese though. My parents are still quite traditional in terms of diet, and there isn't much you can do with cheese in the Asian cuisine. To dad, the smell of cheese is even considered irksome when presented in large quantity.
Most flights to nearby locations next week have been fully booked, with Bangkok topping the list - TOTALLY FULL, on both regular and budget carriers alike. This is due to Deepavali falling on Thursday, followed by Hari Raya Puasa on Monday. When not to take better advantage of the fact that you need to apply only one day's leave (Friday), and give yourself a 5-day holiday? With the SARS scare last year long over and the poultry ban lifted, its no doubt that Singaporeans are looking forward to travelling more than ever. I just hope no one has to run into his/her boss while vacationing. Hehe.
Speaking of holidays...I had so much to pour out in the last entry that I missed mentioning this. Jas (my editor) called me midway through my nap on Monday, asking if I wanted to do a story for Hyper. "What kinda story?" I groggily asked. "We have secured an interview with Jin, would you like to take it?" I thought I was dreaming, especially when she said it was a face-to-face interview. ARE YOU KIDDING?! I'm all up for it...no wait... "When's the interview?" It turned out to be on next Tue, the 9th. Dang, I'd be in Taipei...IF I was allowed to in the end. I told her I'd give her a reply later, which turned out to be a no, since mom eventually relented to me travelling. I wonder which of my fellow reporters was lucky enough to get it after me... But anyhow, I figured I can live with giving up interviewing Jin - giving up the Taipei is an even greater no-no.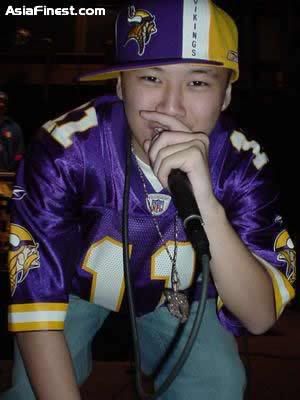 credits to asiafinest.com
Posted at Wednesday, November 03, 2004 by lilmissmoron
Permalink



Tang Pin-Ji, Chen Pinji
(PJ, Pinch, PinG, Pingy)
ASL: 18/f/Singapore
Born: 14 Oct 1985
Is: Student, Diploma in Mass Communication
Loyal . Hyper . Talkative . Opinionated . Temperamental . Emotional . Treasures relationships :)
Loves: Music. Dance. Basketball. Soccer. Swimming. Cycling. Internet. Movies.

email: pj_kop@yahoo.com
icq: 156618977
msn: littlemissmoron85@hotmail.com


The Azzurris
My fave music
Ben Affleck
British trends.music.sports scene.
Spanish culture
Marine life (esp. dolphins, seals & whales)
---
fave music
---
Avril Lavigne . Chemistry . Craig David . Coldplay . David Tao . Elva Hsiao . Eminem . Enrique Iglesias . F.I.R . Exile . Garbage . Human Nature . Jay Chou . Ken Hirai . Lifehouse . Lighthouse Family . Machi . Matchbox 20 . Moby . Namie Amuro . Paul Oakenfold . Ricky Martin . Robbie Williams . Shin . Sugar Ray . Tension . Thalia . The Calling . Third Eye Blind . Travis . U2


---
affiliate blogs
---
angela
amanda
annabelle
anna rae
ayeza
charlotte
chevie
eunice
fiomoe
georgi
hsin
irini
jac
jen
jenn
karen
lianne
liz
mac
max
miko
mirah
pat
qiyun
sheryl
shona
totoro
weizhen
xiaojun
yiming
ying ling